Adopted By
Quantumboost (talk)
Original Creator:
FrankTrollman
Date Adopted:
3/21/2010
Status:
Complete
Editing:
Spelling and Grammar only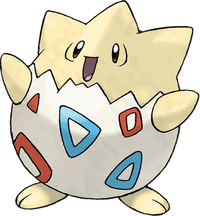 | | Togepi |
| --- | --- |
| Size/Type: | Tiny Magical Beast (Extraplanar) |
| Hit Dice: | 1/2d10-1 (1 hp) |
| Initiative: | -1 (-1 Dex) |
| Speed: | 5 ft. |
| Armor Class: | 12 (+2 size, -1 Dex, +1 natural), touch 11, flat-footed 12 |
| Base Attack/Grapple: | +0/-12 |
| Attack: | Slam -2 melee (1d2-4) |
| Full Attack: | Slam -2 melee (1d2-4) |
| Space/Reach: | 2.5 ft./0 ft. |
| Special Attacks: | Metronome |
| Special Qualities: | Lucky |
| Saves: | Fort +0, Ref +0, Will -1 |
| Abilities: | Str 2, Dex 9, Con 8, Int 4, Wis 9, Cha 15 |
| Skills: | Diplomacy +5 |
| Feats: | Weapon Finesse |
| Environment: | Any land. |
| Organization: | Usually solitary |
| Challenge Rating: | 1/4 |
| Treasure: | Standard. |
| Alignment: | Always Good |
| Advancement: | 1-3 HD (Tiny) |
| Level Adjustment: | — |

Togepi are weird little egg looking things that have spikes sticking out of their heads. Togepi have no real control over what magical power they have, and are a danger to themselves and others. Togepi are somewhat luckier than other creatures, and are good natured. Legends say that Togepi can bring their happiness and luck to other people - especially if they are balanced properly in their sleep.
Combat
[
]
Tactics Round-by-Round:
Togepi are naive and virtually worthless in battle, and attempt to avoid combat if at all possible.
Round 1: Use Metronome, hope for the best.
Round 2: If combat is still happening at this point, Togepi is pretty much screwed.
Round 3: Take a wild guess.
Metronome (Sp): At will, a Togepi can trigger the expenditure of considerable amounts of minimally controlled arcane power. When it does so, an arcane effect is generated. If a Togepi uses this ability, it cannot use it again for 1d6+1 rounds. The DM may choose what happens at this point (generally equivalent to a 2nd-level spell effect), or you can roll on this table:
A Togepi can target the spell after it knows what it will be, but cannot voluntarily retract a spell once Metronome has been begun. The spell goes off as if the Togepi had cast the spell itself, at a caster level equal to the Togepi's HD+1 (rounded down). If, for whatever reason, the spell has no legal target the arcane energy explodes, as if the Togepi had suffered a scroll mishap with a 2nd level scroll.
Lucky (Ex): Once per day a Togepi can reroll any roll it makes, exactly as if it had the Luck Domain special ability. This can be used to avert a particularly disastrous Metronome effect, and often is.
References
[
]
---
Back to Main Page → 3.5e Homebrew → Monsters