Adopted By
Quantumboost (talk)
Original Creator:
Koumei
Date Adopted:
3/15/2010
Status:
Complete
Editing:
Spelling and Grammar only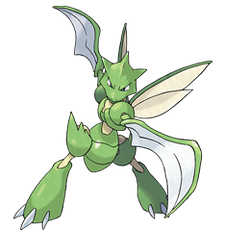 | | Scyther |
| --- | --- |
| Size/Type: | Medium Magical Beast (Bug) |
| Hit Dice: | 7d10+14 (52 hp) |
| Initiative: | +10 (+6 Dex, +4 Improved Initiative) |
| Speed: | 40 ft., fly 20 ft. (average) |
| Armor Class: | 20 (+6 Dex, +4 natural), touch 16, flat-footed 14 |
| Base Attack/Grapple: | +7/+7 |
| Attack: | Claw +12 melee (2d6+5, 19-20/x7) |
| Full Attack: | 2 Claws +12 melee (2d6+5, 19-20/x7) |
| Space/Reach: | 5 ft./5 ft. |
| Special Attacks: | Augmented Critical, Sharpness, Spell-like Abilities |
| Special Qualities: | False Swipe, Acceleration, Darkvision 60 ft. |
| Saves: | Fort +7, Ref +11, Will +2 |
| Abilities: | Str 15, Dex 22, Con 15, Int 8, Wis 11, Cha 8 |
| Skills: | Hide +16 (+20 in grassy areas) |
| Feats: | Improved Initiative, Power Attack, Improved Natural Attack (Claw) |
| Environment: | Grassy areas |
| Organization: | Solitary |
| Challenge Rating: | 7 |
| Treasure: | Standard. |
| Alignment: | Usually Neutral |
| Advancement: | 8-10 HD (Medium), 11-14 HD (Large) |
| Level Adjustment: | — |
Augmented Critical: Scyther will murderise you with its claws, they're that sharp. Their critical threat range is 19-20 and their critical multiplier is x7. Try not to get critted by them. Ever.
Sharpness (Su): Scyther's claws are ultra-sharp. As such, they count as +3 weapons.
False Swipe (Ex): Scyther can, if it feels like it, pull back all strength at the last moment, leaving a foe on precisely 1 HP, 0 HP or -1 and stable. Often, it will do this to a lone attacker, unless they meet again, or it will do this to one member of a group in an attempt to make the others stop.
Spell-like Abilities (Sp): At will: cat's grace, summon swarm (spiders, locusts or bees only); 1/minute: mirror image; 1/day: haste. Caster level is equal to its Hit Dice, and the save DC is Dexterity-based.
The sample Scyther has a save DC of 16 + spell level for its spell-like abilities, and a caster level of 7.
Acceleration (Ex): Did you just see Scyther then? No? 'Course not, it's too damn fast. Scyther can elect, as a subconscious free action, to automatically win Initiative when combat begins. If it does this, however, it becomes fatigued in three rounds. This ability cannot be used while fatigued.
---
Back to
Main Page
→
3.5e Homebrew
→
Monsters
Community content is available under
CC-BY-SA
unless otherwise noted.