Adopted By
Quantumboost (talk)
Original Creator:
Koumei
Date Adopted:
3/26/2010
Status:
Complete
Editing:
Spelling and Grammar only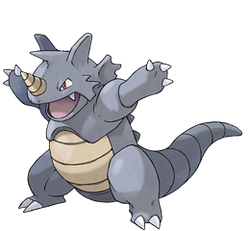 | | Rhydon |
| --- | --- |
| Size/Type: | Medium Elemental (Earth) |
| Hit Dice: | 10d8+40 (85 hp) |
| Initiative: | +0 (+0 Dex) |
| Speed: | 30 ft. (6 squares), burrow 20 ft. |
| Armor Class: | 22 (+12 natural), touch 10,, flat-footed 22 |
| Base Attack/Grapple: | +7/+15 |
| Attack: | Gore +11 melee (1d6+6, 19-20/x4) |
| Full Attack: | Gore +11 melee (1d6+6, 19-20/x4) and Tail +11 melee (1d6+6) (on all fours) or Gore +11 melee (1d6+6, 19-20/x4) and Tail +11 melee (1d6+6) and 2 Slams +9 melee (1d6+2) (on two feet) |
| Space/Reach: | 5 ft./5 ft. |
| Special Attacks: | Trample, Augmented Critical, Stampede, Earthquake, Scary Face, Horn Drill, Powerful Build |
| Special Qualities: | Acid Weakness, Damage Reduction 7/—, Immunity to Electricity, Two Stances, Invincible Charge |
| Saves: | Fort +10, Ref +3, Will +3 |
| Abilities: | Str 19, Dex 10, Con —, Int 8, Wis 10, Cha 13 |
| Skills: | Intimidate +14 |
| Feats: | Power Attack, Improved Bull Rush, Multiattack, Improved Toughness |
| Environment: | Underground |
| Organization: | Solitary, pair or herd (4-8) |
| Challenge Rating: | 8 |
| Treasure: | Standard |
| Alignment: | Usually Neutral |
| Advancement: | 11-15 HD (Medium), 16-20 HD (Large) |
| Level Adjustment: | — |

Description::As if a bipedal, intelligent rhinoceros made of stone weren't threatening enough, this one's horn is a 10-centimeter metallic drill. Some deity somewhere really doesn't like you.
Trample (Ex): Rhydon can trample Small creatures or smaller. It deals 1d8+8 damage (for the sample Rhydon) and the save DC is 19.
Stampede (Ex): When Rhydon makes a charge attack, it is practically an unstoppable force. Everything in its path can either step aside (if there is room to do so) as a non-action or stand there like an idiot. If they stand there, then they may make an attack of opportunity. If that doesn't stop the Rhydon, it gets a free horn attack and may attempt a bull rush as well.
Earthquake (Sp): Once per hour, Rhydon may cast earthquake as a spell-like ability. Caster level equals hit dice, and the Save DCs is 10 + ½ Rhydon's Hit Dice + Rhydon's Charisma modifier.
The sample Rhydon has a caster level of 10 and save DC of 16 for Earthquake.
Scary Face (Su): Rhydon can make itself look extra fierce, and is able to make an Intimidate check to demoralize as a Swift action.
Horn Drill (Ex): Whenever it scores a critical hit with a Gore attack, Rhydon deals 4 points of Constitution damage through blood loss.
Powerful Build (Ex): The physical stature of a Rhydon lets it function in many ways as if it were one size category larger. Whenever a Rhydon is subject to a size modifier or special size modifier for an opposed check (such as during grapple checks, bull rush attempts, and trip attempts), a Rhydon is treated as one size larger if doing so is advantageous to it. A Rhydon is also considered to be one size larger when determining whether a creature's special attacks based on size (such as improved grab or swallow whole) can affect him. A Rhydon can use weapons designed for a creature one size larger without penalty. However, its space and reach remain those of a creature of its actual size. The benefits of this stack with those of spells and effects that change the subject's size category.
Acid Weakness (Ex): Rhydon takes double damage from acid, and gets pissed off.
Invincible Charge (Ex): When Rhydon charges, it doubles its DR and gains Mettle and immunity to critical hits. These last until its next turn begins.
Two Stances (Ex): Rhydon can happily move about on two or four legs. On four legs, it gains a +10' bonus to movement speeds, and all the benefits of being a quadruped. On two legs, it is able to make Slam attacks, but cannot Stampede. It can switch stances as a free action once per round.
---
Back to
Main Page
→
3.5e Homebrew
→
Monsters
Community content is available under
CC-BY-SA
unless otherwise noted.