Adopted By
Quantumboost (talk)
Original Creator:
Koumei
Date Adopted:
3/29/2010
Status:
Complete
Editing:
Spelling and Grammar only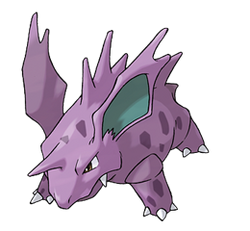 | | Nidorino |
| --- | --- |
| Size/Type: | Small Magical Beast |
| Hit Dice: | 5d10+15 (42 hp) |
| Initiative: | +1 (+1 Dex) |
| Speed: | 20 ft. |
| Armor Class: | 17 (+1 size, +1 dexterity, +5 natural), touch 12, flat-footed 16 |
| Base Attack/Grapple: | +5/+2 |
| Attack: | Gore +8 melee (1d3+3 plus poison, x3) or Poison Dart +7 ranged (1d2 plus poison, 30 ft. increment) |
| Full Attack: | Gore +8 melee (1d3+3 plus poison, x3) or Poison Dart +7 ranged (1d2 plus poison, 30 ft. increment) |
| Space/Reach: | 5 ft./5 ft. |
| Special Attacks: | Poison, Poison Darts |
| Special Qualities: | Poison Point, Egg Move, Substitute |
| Saves: | Fort +6, Ref +5, Will +4 |
| Abilities: | Str 15, Dex 12, Con 15, Int 8, Wis 11, Cha 12 |
| Skills: | — |
| Feats: | Improved Toughness, Iron Will |
| Environment: | Temperate plains |
| Organization: | Solitary or posse (up to 6) |
| Challenge Rating: | 4 |
| Treasure: | Standard. |
| Alignment: | Neutral |
| Advancement: | 6-11 HD (Small), 12-15 HD (Medium) |
| Level Adjustment: | — |

Description::As its quills shake, the creature lets off a few drops of venomous ooze. It gallops on all fours, mass alone preventing it from standing on its hindlegs.
Poison (Ex): Injury, Fortitude DC 14, initial damage 2 Con, secondary damage 1d6 Con. The DC is Constitution-based.
Poison Darts (Ex): Nidorino can fire small venomous barbs up to 30 feet away. These regrow every day, allowing up to 4 to be fired per day.
Poison Point (Ex): Anyone who strikes a Nidorino with an unarmed or natural weapon attack, or grapples/is grappled by one, takes one point of damage and must save against its poison.
Substitute (Sp): Nidorino can cast mirror image at will.
Egg Move: Upon its transformation from a Nidoran, Nidorino's Egg Move improves:
Charm Person -> charm monster at will as a spell-like ability
Beat Up (Ex): Nidorino and all allies within 10 feet gain +1 to hit and +1d6 damage for every ally adjacent to their target.
Lesser Confusion -> confusion at will as a spell-like ability
---
Back to
Main Page
→
3.5e Homebrew
→
Monsters
Community content is available under
CC-BY-SA
unless otherwise noted.