Adopted By
Quantumboost (talk)
Original Creator:
Koumei
Date Adopted:
3/29/2010
Status:
Complete
Editing:
Spelling and Grammar only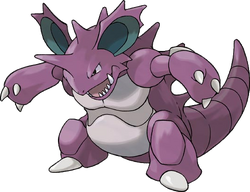 | | Nidoking |
| --- | --- |
| Size/Type: | Medium Magical Beast (Earth) |
| Hit Dice: | 12d10+60 (126 hp) |
| Initiative: | +1 (+1 Dex) |
| Speed: | 30 ft. |
| Armor Class: | 23 (+1 dexterity, +12 natural), touch 11, flat-footed 22 |
| Base Attack/Grapple: | +12/+17 |
| Attack: | Gore +17 melee (1d6+7, 19-20/x4) or Poison Dart +13 ranged (1d3 plus poison, 30 ft. increment) |
| Full Attack: | Gore +17 melee (1d6+7, 19-20/x4) or Poison Dart +13 ranged (1d3 plus poison, 30 ft. increment) |
| Space/Reach: | 5 ft./5 ft. |
| Special Attacks: | Poison, Poison Darts, Flamethrower, Earthquake, Megahorn, Stone Edge |
| Special Qualities: | Poison Point, Egg Move, Substitute, Sandstorm |
| Saves: | Fort +12, Ref +9, Will +10 |
| Abilities: | Str 21, Dex 12, Con 19, Int 10, Wis 17, Cha 20 |
| Skills: | — |
| Feats: | Improved Toughness, Iron Will, Ability Focus (Poison), Power Attack, Ability Focus (Flamethrower) |
| Environment: | Temperate plains |
| Organization: | Solitary or posse (up to 4) |
| Challenge Rating: | 11 |
| Treasure: | Standard. |
| Alignment: | Neutral |
| Advancement: | 13-16 HD (Medium), 17-20 HD (Large) |
| Level Adjustment: | — |

Description::The hunched violet beast is the height of a man and relative girth of a dwarf, and bears only cursory resemblance to the porcupine-thing it once was. The earth shakes while it walks, more than its girth alone would make possible.
Poison: Injury, Fortitude DC 22, initial damage 2d6 Con and Nauseated 1 minute, secondary damage 3d6 Con. The DC is Constitution-based.
Poison Darts (Ex): Nidoking can fire small venomous barbs up to 30 feet away. These regrow every day, allowing up to 4 to be fired per day.
Poison Point (Ex): Anyone who strikes a Nidoking with an unarmed or natural weapon attack, or grapples/is grappled by one, takes one point of damage and must save against its poison.
Substitute (Sp): Nidoking can cast mirror image at will and simulacrum once per day.
Flamethrower (Su): A Nidoking's flamethrower attack strikes in a 40-ft. line or 20-ft. cone and deals 1d6 fire damage per HD (maximum 20d6); this fire is hot enough to deal full damage to objects. Creatures in the area may halve the damage on a successful reflex save DC 10 + Nidoking's Charisma modifier + ½ Nidoking's Hit Dice. Nidoking may not use Flamethrower for d4 +1 rounds after having used it. The Sample Nidoking's Flamethrower attack inflicts 12d6 fire damage with a save DC of 21.
Earthquake (Sp): Nidoking can cast earthquake (caster level equals hit dice) once per 4 rounds.
Megahorn (Ex): Nidoking's gore attack is treated as though it has Augment Critical and Improved Natural Attack.
Stone Edge (Su): Nidoking can cast spike stones at will.
Sandstorm (Su): As a Standard action, Nidoking can summon a sandstorm, as per the sandstorm[1] spell.
Egg Move: Nidoking inherits the special power it had as a Nidorino:
Charm Person -> charm monster at will as a spell-like ability
Beat Up (Ex): Nidoking and all allies within 10 feet gain +1 to hit and +1d6 damage for every ally adjacent to their target.
Lesser Confusion -> confusion at will as a spell-like ability
References
Edit
---
Back to
Main Page
→
3.5e Homebrew
→
Monsters
Community content is available under
CC-BY-SA
unless otherwise noted.