| | Hero Deity |
| --- | --- |
| Symbol: | The Heart of All Worlds |
| Home Plane: | The World that Never Was |
| Alignment: | Neutral |
| Portfolio: | Hearts/Souls |
| Favored Weapon: | Keyblade |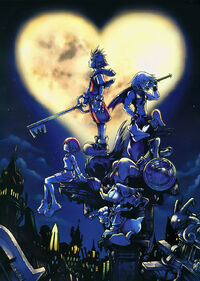 It is the heart of all worlds, and the source of great power and wisdom.
"
I know now, without a doubt, Kingdom Hearts is light!
"
—Sora, Wielder of the Keyblade
It can be seen as the heart of everything. It is seen as a giant heart-shaped moon. It is the coveted source of reincarnation for Nobodies, and power for Heartless. Keyblade Masters put their lives and hearts on the line to defend it.
Kingdom Hearts does not will allegiance, it doesn't ask anything of its subjects. As long as a steady stream of heartless hearts fuel it, it is happy.
Clergy and Temples
Edit
Kingdom Hearts has no temples or clergy, though members of Organization XIII use their tower at the center of The World that Never Was as a place to cultivate all the collected hearts in order to access Kingdom Hearts when it is complete.
---
Back to
Main Page
→
3.5e Homebrew
→
Deities
Community content is available under
CC-BY-SA
unless otherwise noted.