Fiendish Hawk
Size/Type:
Tiny Magical Beast (Extraplanar)
Hit Dice:
1d8 (4 hp)
Initiative:
+3
Speed:
10 ft. (2 squares), fly 60 ft. (average)
Armor Class:
17 (+2 size, +3 Dex, +2 natural), touch 15, flat-footed 14
Base Attack/Grapple:
+0/–10
Attack:
Talons +5 melee (1d4–2)
Full Attack:
Talons +5 melee (1d4–2)
Space/Reach:
2-1/2 ft./0 ft.
Special Attacks:
Smite Good 1/day
Special Qualities:
Low-light vision, Darkvision 60 ft., Resistance to cold and fire 5, Spell resistance 6
Saves:
Fort +2, Ref +5, Will +2
Abilities:
Str 6, Dex 17, Con 10, Int 3, Wis 14, Cha 6
Skills:
Listen +2

+4

, Spot +14

+16

Feats:
Alertness, Weapon FinesseB
Environment:
Temperate forests in an evil-aligned plane
Organization:
Solitary or pair
Challenge Rating:
1/3
Treasure:
None
Alignment:
Always evil (any)
Advancement:
—
Level Adjustment:
—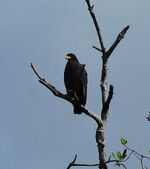 These creatures are similar to eagles but slightly smaller: 1 to 2 feet long, with wingspans of 6 feet or less.
Smite Good (Su): Once per day the creature can make a normal melee attack to deal extra damage equal to its HD total (maximum of +20) against a good foe.
Hawks combine both talons into a single attack.
Skills: Hawks have a +8 racial bonus on Spot checks.
SEE WIKIPEDIA ENTRY: Hawk
---
Back to Main Page → 3.5e Homebrew → Monsters
Community content is available under
CC-BY-SA
unless otherwise noted.