| | | |
| --- | --- | --- |
| " | Hark! Do you hear the sorrows in my melodies? They eat away the broken remnants of my heart, making every second a living hell. This is a pain that I will inflict upon you. | " |
Prerequisite: Songweaver, You must have suffered some personal tragedy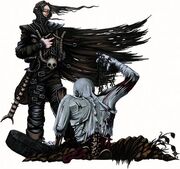 Dirgesingers are songweavers that have suffered devistating personal tragedies and fallen to their grief. Dirgesingers sing not melodies of joy but of despair and grief, seeking to express their grief through songs and teach their listeners the meaning of true sorrow. Some of these fallen songweavers want nothing more than for others to understand their pain, while others, twisted by their grief, wish to extinguish the joy of others.
Aura of Sorrow (11th Level): Enemies within 2 squares of you take a -2 penalty to attack rolls.
Dirgesong (11th Level): Once per encounter, you can use a single dirge power. You gain Song of Sorrow and Song of Grief as dirge powers.
At 12th level, you gain Song of Horror as a dirge power, and you can use two dirge powers per encounter rather than one, though you cannot use the same dirge power twice per encounter.
At 16th level, you gain Song of Regret as a dirge power.
At 20th level, you gain Elegy of Sorrows and Elegy of Grief as daily dirge powers. You can only use a single daily dirge power per day. Other than this, daily dirge powers count as dirge powers. In addition, once per day, you can use three dirge powers in a single encounter rather than two. These may include a daily dirge power if you wish.
Unlike other paragon paths, you gain dirges instead of powers at 11th, 12th and 20th level. The dirges you gain at each level are named above, and detailed below.
---
Back to Main Page → 4e Homebrew → Classes.
Community content is available under
CC-BY-SA
unless otherwise noted.