Deep Diviner
Edit
| | | |
| --- | --- | --- |
| " | I am a master of the earth; the underdark is my dominion! | " |
Prerequisite: Arcane Power Source
As a deep diviner you are a master of the earth. You know the secrets of the underdark intimately, and thus you can control the considerable power of the underdark to destroy your enemies. You can hear the whispers of the underdark, and thus you may seem to be omniscient. Though this is not entirely true, it is a misapprehension you may like to encourage; for fear of your knowledge may grant you more power.
Deep Diviner Path Features
Edit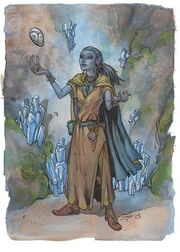 Meld into Stone (11th Level): When you spend an action point to take an extra action, you can teleport 3 squares as a free action.
Secrets of Stone (11th Level): Once per round, you gain a +1 bonus to either a single attack roll, damage roll or skill check of your choice.
---
Back to Main Page → 4e Homebrew → Classes.
Back to Main Page → 4e Homebrew → Sourcebooks → Arachonomicon; the Book of Spiderkind → Classes.
Community content is available under
CC-BY-SA
unless otherwise noted.