Nominated for mass deletion along with 22 other D&D articles at Wikipedia:Wikipedia:Articles for deletion/Death watch beetle (Dungeons & Dragons)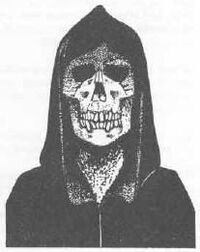 In the Dungeons & Dragons fantasy role-playing game, the crypt thing is a type of undead creature.
Publication history
Edit
The crypt thing first appeared in the original first edition Fiend Folio (1981).[1]
The crypt thing appeared in second edition for the Greyhawk setting in the Monstrous Compendium Greyhawk Appendix (1990),[2] and is reprinted in the Monstrous Manual (1993).[3]
The crypt thing appeared in third edition in Living Greyhawk Journal #5 (March 2002). The crypt thing appeared in the third edition Fiend Folio (2003).[4]
Description
Edit
A crypt thing is depicted as being an undead skeleton that wears brown robes, found within its private lairs. When attacked a crypt thing will attempt to teleport its attacker to a random location.
Other publishers
Edit
The crypt thing appeared in the Tome of Horrors (2002) from Necromancer Games.[5]
References
Edit
Community content is available under
CC-BY-SA
unless otherwise noted.