Cavestalker
Edit
| | | |
| --- | --- | --- |
| " | Welcome to my realm. You'll find naught here but privation, fear and death—oh, and my blade. | " |
Prerequisite: Ranger class, Proficiency with Spiked Chain or Versatile Combatant
As a cavestalker, you nurture a close, almost mystical connection to the deadly terrain of the underdark. To you, the lightless tunnels are not friends, exactly, but perhaps well-respected adversaries. Danger is always present, yet you understand it and even find a certain succor in living alongside it.
Cavestalker Path Features
Edit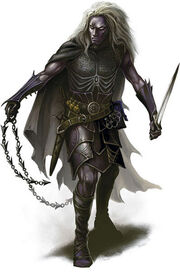 Exotic Combat Style (11th Level): If you have proficiency with the spiked chain, you can use it as a single-handed weapon (but not an off-hand weapon, even if you have the two-blade fighting style). If you have the versatile combatant feat, you can use the hand crossbow as a melee weapon (this is the same as using it as a ranged weapon except it has a range of 1 square and does not provoke opportunity attacks). If you have both of the above, choose one of the above benefits.
Master caver (11th Level): You gain a +2 bonus to acrobatics, athletics, dungeoneering, heal, nature and perception checks made in the underdark. You also lower skill check DCs, move penalties and attack penalties by one categories when you are in cramped spaces.
Cavesense (16th Level): You gain tremorsense 6.
---
Back to Main Page → 4e Homebrew → Classes.
Back to Main Page → 4e Homebrew → Sourcebooks → Arachonomicon; the Book of Spiderkind → Classes.
Community content is available under
CC-BY-SA
unless otherwise noted.