Nominated for mass deletion along with 22 other D&D articles at Wikipedia:Wikipedia:Articles for deletion/Death watch beetle (Dungeons & Dragons)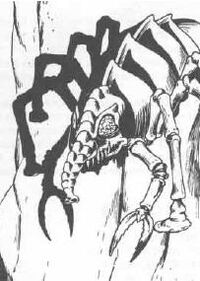 In the Dungeons & Dragons fantasy roleplaying game, the cave fisher is a type of fictional monster.
Publication history
Edit
The cave fisher first appeared in the first edition in the module A4 In the Dungeons of the Slave Lords (1981),[1] and later appeared in the original Monster Manual II (1983).[2] The cave fisher was further detailed in "The Ecology of the Cave Fisher" in Dragon #135 (July 1988).
The cave fisher appeared in second edition in the Monstrous Compendium Volume One (1989),[3] and is reprinted in the Monstrous Manual (1993).[4]
The cave fisher appeared in third edition in Dragon #355 (May 2007).
The cave fisher appeared in fourth edition in the Monster Manual 3 (2010).
Description
Edit
The cave fisher is a crab-like monster which inhabits the Underdark and ambushes prey. The cave fisher hides on ledges and hunts by emitting a long strand of sticky filament.
Other publishers
Edit
The cave fisher appeared in the Tome of Horrors (2002) from Necromancer Games.[5]
References
Edit
Community content is available under
CC-BY-SA
unless otherwise noted.