Nominated for mass deletion along with 22 other D&D articles at Wikipedia:Wikipedia:Articles for deletion/Death watch beetle (Dungeons & Dragons)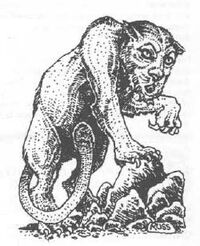 In the Dungeons & Dragons fantasy role-playing game, the caterwaul is a type of magical beast.
Publication history
Edit
The caterwaul first appeared in the original first edition Fiend Folio (1981).[1]
The caterwaul appeared in the second edition in the Monstrous Compendium Fiend Folio Appendix (1992).[2]
Description
Edit
A caterwaul is a bipedal feline, noted for its ability to climb, hide in shadows and to move silently. When attacking, it is said to emit a high pitched screech that will cause damage to anyone nearby.
Other publishers
Edit
The caterwaul appeared in the Tome of Horrors (2002) from Necromancer Games.[3]
References
Edit
Community content is available under
CC-BY-SA
unless otherwise noted.