Nominated for mass deletion along with 22 other D&D articles at Wikipedia:Wikipedia:Articles for deletion/Death watch beetle (Dungeons & Dragons)
In the Dungeons & Dragons fantasy role-playing game, the brownie is a type of fey.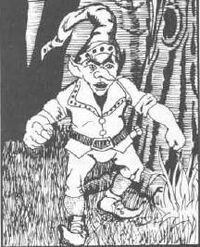 Publication history
Edit
The brownie first appeared in the first edition in the original Monster Manual (1977).[1]
The brownie appeared as a player character class for the D&D basic game in Tall Tales of the Wee Folk (1989). The brownie later appeared in DMR2 Creature Catalog (1993).[2]
The brownie appears in second edition in the Monstrous Compendium Volume One (1989),[3] and is reprinted in the Monstrous Manual (1993).[4]
The brownie appeared in third edition in the article "Adventure Locales: The Silent Manse" on the Wizards of the Coast web site in 2004.[5]
Description
Edit
The brownie is a distant relative of the halfling that dwells in quiet, pastoral areas.
Other publishers
Edit
The brownie was written up as a player character race in White Dwarf #29 (Feb. 1982).[6]
The brownie appeared in the Tome of Horrors (2002) from Necromancer Games.[7]
The brownie appears as a type of sprite in Dangerous Denizens: The Monsters of Tellene (2003), for the Kingdoms of Kalamar setting.[8]
References
Edit
↑ Gygax, Gary. Monster Manual (TSR, 1977)
↑ Cook, David, et al. Monstrous Compendium Volume One (TSR, 1989)
↑ Stewart, Doug, ed. Monstrous Manual (TSR, 1993)
↑ White Dwarf (Games Workshop) (29): 24. February 1982.

 

↑ {{{author}}} (2002). Tome of Horrors, p. 30. Necromancer Games.
↑ Dangerous Denizens: The Monsters of Tellene. (Kenzer & Company, Wizards of the Coast, 2003)